ESSENTIAL SERIES
Staple products needed in every Man's game.
'MEN' a whole different ball game! Too often, men's skin hygiene is ignored due to a lack of information & overcomplicated products, something other brands just don't get. This is where MR.SKINCARE steps in, to help YOU fight YOUR skin concerns, and provide a simple yet effective solution that is backed by science and driven by results.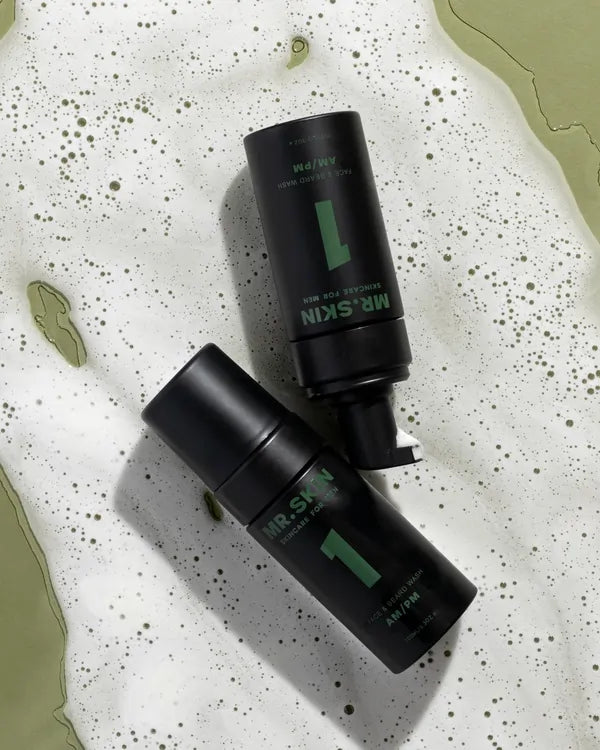 MR.SKINCARE IS BEATING THE COMPETITON !
Born out of the desire to offer men a simple and results-driven skincare routine to fit into their busy everyday lives. MR.SKINCARE understands skincare is intimidating, complicated & confusing. This is why MR.SKINCARE was created. Forget about all the bullsh#it claims & trends. Your mind will be at ease to know our products are formulated with proven clinical ingredients to work with the skin, not against it.
HEAR FROM THE MR.'S
Salvatori A.

After using multiple skincare products which just don't work, I have finally found a solution! Suffering from dry, sensitive and acne prone skin, the series has finally allowed me to overcome my skin concerns.

MONA

My hubby has been loving this Face & Beard Wash. It is a lovely foaming cleanser with a refreshing fragrance. It leaves the skin clean, soft and hydrated. It has an impressive ingredient list which I think was long due for men in my opinion.

KEVHIN

I ordered the 3-pack expecting nothing to change, but my skin has gone from dry and red to smooth and clear I'm so happy I found these guys, I also thought shipping would take long as I've ordered similar product and it's taken 4-5 weeks to come it arrived within 2 weeks.